Based on that resourceful though questionable critical litmus test, Metacritic.com, Vondie Curtis-Hall's last two large-scale feature films score an average of 23% out of 100% (his earlier works, tellingly aren't cited on the website). However, if one steps back from the unfocused generalization of the critical/-popular biosphere, what is actually uncovered is a unique vision - irreverent for sure, yet consummately compassionate. The body of work, which includes
Gridlock'd
,
Glitter
,
Waist Deep
, and the TV-film
Redemption
, is ripe with unabashedly un-glossed, imperfect textures --- ones that are nevertheless rich and evocative --- True, character-driven, "Of-the-moment" storytelling.
In the "bigger picture," Curtis-Hall is just one "for-hire" director among dozens who drift between gigs for series television, movies-of-the-week, and feature films, and is probably best known by many for his work as an actor (as a regular on "Chicago Hope" and in the features
Sugar Hill
,
Eve's Bayou
,
Romeo + Juliet
, etc.). He has the misfortune of being a black filmmaker interested in stories of the black experience, much like his wife, director Kasi Lemmons (
Eve's Bayou
+ the recent
Talk to Me
), which immediately sets him off as a marginal figure, the guy studios go for when their looking for a bit of "edge." The implicit racism of this scenario extends from the fact that for years Hollywood has been producing what they term "urban" films, but more often than not, once completed they have no idea what to do with. If only, the marketing machine would learn a lesson from LionsGate and their collaboration with Tyler Perry, who not only led the independent company into the untapped potential of under-the-radar grassroots marketing, but has revealed the great hunger across America for serious black films that don't treat the characters like caricatured relics from the blaxploitation-era of cinema
In his writing/directing debut
Gridlock'd
(1997), Tupac Shakur and Tim Roth play struggling musicians and die-hard junkies caught in the bureaucratic maze of the American healthcare system as they attempt to enter a drug rehabilitation program. The two are an uncommonly natural pairing: Shakur's cool rationality bounced off Roth's clumsily nervous, jittery energy. Curtis-Hall propels us forward with a surreal rat-a-tat-tat bender -
Dog Day Afternoon
on the dark side of
Belle de Jour
's lunar orbit. "This fuckin' country's fallin' apart man…" Roth laments with a desperate fury, one that is always, right on the tip of explosion, slickly extinguished by Shakur's perseverant optimism. While following the addict's cinematic handbook,
Gridlock'd
injects a cynically jovial eccentricity: Classical style thrown with viral pebbles into a blender of jazzy cool --- dripping the already metaphorically queer innards of the buddy comedy into the overt frame of a male love story. The presence of the musicians' singer, Cookie (Thandie Newton), a perky, though hollowed-out beauty whose drug-induced coma first compels the pair to go clean, bridges the gap between the black/white cultural divide that each refuses to acknowledge. Spoon and Stretch fuck her to fuck each other.
2001's
Glitter
may be be a sudster, but it transcends its narrative limitations through a sincerely innocent + gravitated performance by Mariah Carey, some wonderfully cheesy mid-80s New York club scenes, and a blend of house-and-early hip-hop infused séances with some sweet Jam & Lewis ballads for Carey, abetted by a jazzed-up symphonic score by Terrence Blanchard and an eclectic grab-bag of source selections (everything from Zapp, Grandmaster Flash, and Rick James to Frankie Goes to Hollywood and Art of Noise). This is obviously New York-lite, with the sexual ambiguity, poverty, and danger more a glossy, retro sheen than an organic outgrowth of the landscape (much like the other NY/disco-house films made around the same period –
54
and
The Last Days of Disco
). But the sedated, romantic vibe suits the film well.
Glitter
was the first of a wave of overcoming the odds + making it big musical fantasias that refracted back through the "real lives" of crossover urban-pop stars. In these combo marketing packages/dramatic jailbait (
8 Mile
,
Get Rich or Die Tryin'
, et al.), the artists in question replay supposed aspects of their "real lives" with the burden of resigned folly.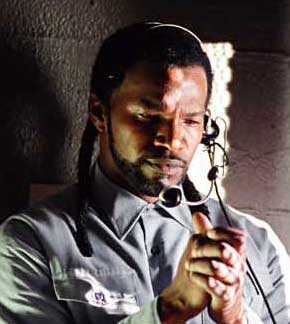 The original cable-TV movie
Redemption
(2004) depicted the journey of San Quentin death row inmate Stan "Tookie" Williams from the ruthless founder of South LA's Crips + jailhouse warlord to children's book writer and Nobel Peace Prize nominee. The strictly conventional thematic treatment of redemption is enriched via Jamie Foxx's most contained, focused performance and Curtis-Hall's simultaneous indulgence and subversion of gangsta clichés. Where the film is lacking extrapolates the director's continual weaknesses, in particular the lack of Witness: that open-minded perception of depth and understanding. But while the moral values may be blunt, they are never marked by dishonest manipulation.
The same might not be said of 2006's
Waist Deep
, which has its interests, but is the first time where Curtis-Hall seems degraded by the racial codes of the Hollywood game. This boilerplate urban noir, an outgrowth of the wave of medium-budgeted quickies that sought to update and formulize the tropes of 70s soul filmmaking (otherwise known as 'blaxploitation'), it explicitly feeds into Curtis-Hall's already developed shorthand. While there have been a number of compelling recent entries into this once-renegade subgenre (which now typically replace the sexually voracious R&B singers turned actors and funk music of yore with nihilistic rappers and commercialized gangsta-hop), more often than not the work is insulting and backwards-looking --- unambiguously 'soul'-less, as in the case of
Waist Deep
.
The film was one of the first products of the newly-christened Rogue Pictures, a genre imprint of Universal's indie-division Focus Features that has picked up where the defunct Dimension (once part of Miramax) left off. The dense, quirky opening line-up featured the surprisingly exciting, morally-tinted
Assault on Precinct 13
remake, the Luc Besson produced Jet Li extreme fighting morality fable
Unleashed
, sleeper Brit horror-comedy
Shaun of the Dead
and Dave Chapelle's cynically uplifting concert film
Bloc Party
. None of those works spared their origins ---fulfilling and then expanding on B-movie formula to create narratives more urgently of the moment than other officially sanctioned (then-recent) films of "social relevance."
On the other hand,
Waist Deep
is what one might term a "retracting" serio-film, a ragged wolf in immaculate sheep's threads: swiftly shifting from tight-fisted, race against the clock noir, to 'Twilight Zone'-esque urban nightmare, to implausible revenge thriller, to morally wishy-washy redemption. It's, in essence, a ghetto fairytale – an impossible journey that can't reconcile (unlike say, Larry Clark's
Wassup Rockers
, released around the same time) its realistic pulse with its soapy, inflated heart. Despite the grit and darkness of its roots, and the way this offers an open pavement to step on the gas and 'push the envelope,' Hall instead consistently dodges the unexpected.
Tyrese Gibson, a serious, intense performer wrapped in the silky good looks of a fashion model, is 02, the type of instantaneously charismatic, audience-identifying lone man commonly found in noir. He is reason alone to see the film, especially in his fearless confrontation of rapper The Game (aka Jocelyn Taylor) as the bluntly nicknamed Meat. Making his big screen debut playing the same bench-pressing Scarface-d coke mobster that he dresses down in his highly-referential rapping, he is both enigmatically cartoonish and dangerously gravity-bound. The film isn't willing to go too deep into his ruthless depravity and O2's prior connections to him, but we get the necessary intimations of unshaded evil and cynical danger to string us far enough along.
And this is what Vondie Curtis-Hall is good at: Stringing us far enough along - which, actually, might be the most we can ask of a persistent, malleable figure in the segregated film landscape of today. But here's hoping that one day he reaches the end of that WIRE…